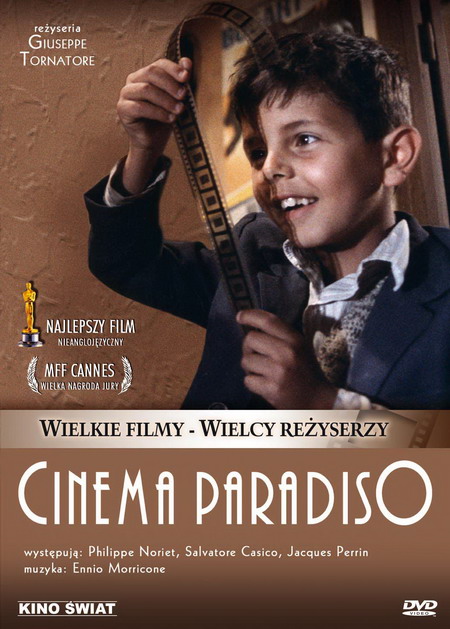 Directed by
Giuseppe Tornatore
Writing credits
(in alphabetical order)
Vanna Paoli collaborating writer
Giuseppe Tornatore screenplay
Giuseppe Tornatore story
Cast
(in credits order)complete, awaiting verification
Antonella Attili .... Maria (Young)
Enzo Cannavale .... Spaccafico
Isa Danieli .... Anna
Leo Gullotta .... Usher
Marco Leonardi .... Salvatore (Adolescent)
Pupella Maggio .... Maria (Old)
Agnese Nano .... Elena (Adolescent)
Leopoldo Trieste .... Father Adelfio
Salvatore Cascio .... Salvatore (Child)
Tano Cimarosa .... Blacksmith
Nicola Di Pinto .... Village Idiot
Roberta Lena .... Lia
Nino Terzo .... Peppino's Father
Jacques Perrin .... Salvatore (Adult)
Philippe Noiret .... Alfredo
Brigitte Fossey .... Elena (Adult) (director's cut only)
Also Known As:
Cinema Paradiso (Australia) (France) (USA)
Cinéma Paradiso (France)
Cinema Paradiso: The New Version (USA) (director's cut)
MPAA: Rated R for some sexuality. (director's cut)
Runtime: 155 min / Italy:123 min (International version) / Italy:170 min (director's cut)
Country: Italy / France
Language: Italian / English
Color: Color
Sound Mix: Dolby
IMDB User Rating: 8.3/10 (20,346 votes) top 250: #104
Plot Summary
A famous film director returns home to a Sicilian village for the first time after almost 30 years. He reminisces about his childhood at the Cinema Paradiso where Alfredo, the projectionist, first brought about his love of films. He is also reminded of his lost teenage love, Elena, who he had to leave before he left for Rome.