Marlon Brando dies of lung failure at 80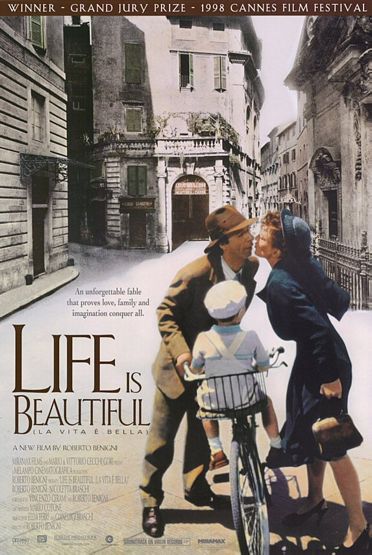 Life Is Beautiful (Vita è bella, La) 1997
Directed by Roberto Benigni
Writing credits Vincenzo Cerami and Roberto Benigni
Cast overview, first billed only:
Roberto Benigni .... Guido Orefice
Nicoletta Braschi .... Dora
Giustino Durano .... Eliseo Orefice
Lidia Alfonsi .... Guicciardini
Sergio Bini Bustric .... Ferruccio Papini (as Sergio Bustric)
Giuliana Lojodice .... School principal
Amerigo Fontani .... Rodolfo
Pietro De Silva .... Bartolomeo
Francesco Guzzo .... Vittorino
Raffaella Lebboroni .... Elena
Giorgio Cantarini .... Giosué Orefice
Marisa Paredes .... Madre di Dora
Horst Buchholz .... Dr. Lessing (as Horst Bucholz)
Claudio Alfonsi .... Amico Rodolfo
Gil Baroni .... Prefect
Life Is Beautiful (1998) (USA)
Runtime: 116 min
Country: Italy
Language: Italian / German / English
Color: Color
Sound Mix: Dolby Digital
That seems to be a favourite cliché applied to this fantasy film. The entire movie apparently is a child's dream about a concentration camp. Only in fairy stories would a death camp be so sparkling clean and spacious. The detainees in this (holiday) camp are free to move about as they please. They can even play with the Aryan Gretchens and Hansis if they want to.
In the Czech Republic, there's an exhibit of drawings made by cute and precocious children vacationing at the Theresienstadt concentration camp. Their amusingly childish artwork shows typical scenes of camp life, large black monsters crushing tiny people wearing little yellow stars, for example.
I happen to have seen another concentration camp film this week, Escape from Sobibor (1987). In that film, Jews also banter and jest with the Nazis, only they do it by applying axes to their heads and homemade knives to their stomachs. History would seem to have demonstrated that axes and knives are more effective tools for dealing with Nazis than making jokes at their expense.
"Uplifting" is another label assigned to Life Is Beautiful. It might better be applied to Escape from Sobibor, a true story about real people -- not "princes" and "princesses" -- overcoming real odds at huge cost to escape from an actual murder camp.
Nice Offenbach music can be found in this film though, one of my personal favourites in fact, Tales of Hoffmann. SS men in actual death camps didn't keep a lot of Jewish opera records on hand for the musical edification of the inmates.